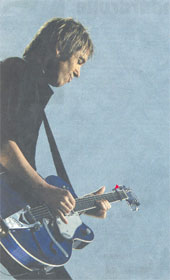 Sterner Eccentric Capo
US patent 2002 by Anders Sterner. (That's me!)
Designed to interfere as little as possible with the hand. The excess of the bar never sticks out on the treble side. The steel spring strap is coated with nylon, for neck protection and to reduce friction for better distribution of the pressure on the strings. Flexible nylon bar adjusts to different radii of the fretboard (the spring extends through the bar). Easy removable polyurethan pad. Snaps on/off and pressure is adjusted with the nut. Strings can never be pulled aside, because the instrument neck is seated in the stiff corner of the capo before the strings are pressed down to the fret.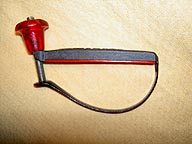 Made in Sweden.
Marketed by Sterner Capo Mfg.