The

Capo Museum
Capos have been in existence for more than 200 years and they are designed in many ways. Since 1850 there are more than 130 capo patents, some are smart and some are really crazy. There seem to be few musicians among the designers - or the other way round.
Right now, 248 different capos - old and new - are displayed in my museum.
I'm very proud that one of them is my own design! See if you can find it.
Enjoy!

Banjo Tailpiece
5th String Conversion Kit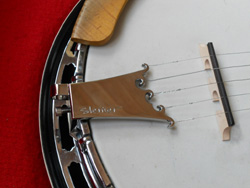 The simplest, yet the most steady, sturdy
and versatile banjo tailpiece in the world.
A work of art. The simpler the better!